TurboTax Military And Active Service Member Free Tax Filing Options
The tantalizing thought of cutting back on tax season expenses is a sensation that resonates well on budget conscious tax filers. Fact be told, it's a money saving opportunity that anyone can wrap their merry thoughts around.
TurboTax Military tax filing opportunities offer up a smorgasbord of savings that pretty much any Military Member can benefit from.
TurboTax Military Tax Filing Options and Discounts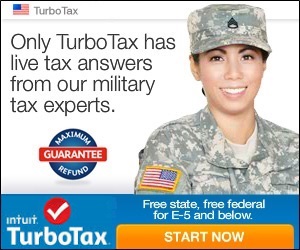 TurboTax offers up some pretty beneficial benefits that are intended to reward active duty armed force personnel low cost or free tax filing options in appreciation of their service to our country, and our security.
Our nation seems like if faces more threats than ever with the radical ideology that has been spreading throughout the world. Fortunately, TurboTax is making an effort to take at least some form of stress off the shoulders of our armed force members and reservists.
How To Qualify For Your TurboTax Military Discount
This ever expanding TurboTax military discount program is offered to all active duty U.S. military members as well as reservists. It applies to service members in ranks E-1 thru E-5, and allows them to file both federal and state tax returns for FREE with the TurboTax Online Federal Free Edition, or the online version of the Deluxe Edition.
However, don't feel left out if you reach beyond these ranks, TurboTax is still here to benefit you as well. Those who rank in at E6 or above can enjoy an additional $5 off some already discounted TurboTax federal products.
With all that in mind, it's a simple process that has been set in place to get you started. All you have to do is use your military W-2 form to verify your rank so that the proper discount can be applied to your tax preparation charges when you file your tax return. It's that easy!
Where Military Personnel Can Get Their W-2 For TurboTax Free Tax Preparation Qualification
Military, retiree, annuitant and federal civilian employee customers who are serviced by the Defense Finance and Accounting Service will see their tax statements distributed generally around mid-December through January.
These IRS tax forms become available thru myPay, the Department of Defense online pay account management system for the majority of DFAS customers. These online electronic forms are available up to two weeks sooner than those mailed to customers requiring hardcopy delivery.
DFAS also supplies IRS healthcare Forms 1095-B or 1095-C to military, retiree and federal civilian employees who receive healthcare insurance coverage through Tricare or Federal Employee Health Benefit programs.
Added TurboTax Military Member Support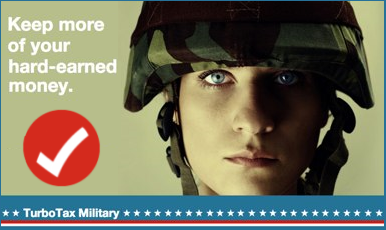 Along with the savings you receive with the military discount of free tax filing, TurboTax is programmed to help insure ensure that you are talking advantage of every tax break opportunity.
This includes a guarantee that you will receive the maximum refund from your tax return prepared with TurboTax.
TurboTax Extended Military Support Features
TurboTax support helps military personnel report both their military and civilian income (if applicable), including active combat pay
TurboTax software is programmed to search for military-related expenses so that every opportunity for deductions or credits is explored
TurboTax helps active duty personnel determine their state of residence in cases of Permanent Change of Station (PCS) orders
With these TurboTax Online Military Support Mechanisms in place, these efforts to simplify armed force tax preparation are a example of the true appreciation TurboTax and America has for everything you do to protect and keep our country safe!