TurboTax Home and Business
2018 - 2019
TurboTax Home & Business is designed for personal & business tax filing all in one package. It can easily guide you step by step through your tax preparation tasks so that your personal and business deductions are maximized.
Calculations are guaranteed 100% accurate after all deductions are taken to insure you're getting your biggest tax refund.
Choose TurboTax Home & Business if any of the following apply to you:
You file your personal and business taxes together
You receive income from a side job or self-employment
You are a sole proprietor, consultant, 1099 contractor, or single-owner LLC
You prepare W-2 and 1099-MISC forms for employees or contractors
Everything you need as the best tax return software to easily do your personal and business taxes.
If your looking for a simple organized way to do your home and business taxes without hassles, then your in for a pleasant surprise. Intuit TurboTax Home & Business has everything you need to make the job as pleasant as possible.
First of all, it includes everything from the Turbo Tax Premier Edition as well as extra business guidance.
Supported Platforms
TurboTax Home + Business - MacBook & Windows
Works with most operating systems.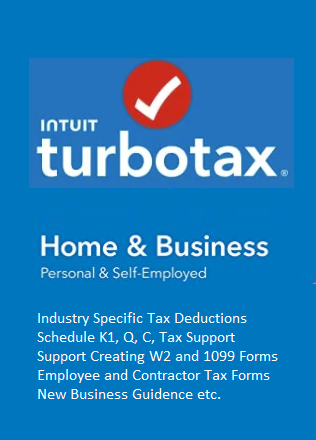 Use Online: Windows XP / Vista / 7 / Mac OS X
Home & Business Software
More Details:
TurboTax Home + Business Features
>> TurboTax Online Tax Preparation Software Editions - Comparison Chart
Screen Shot - Online Comparison Chart

Get support for investors with help for stocks, bonds, mutual funds, rental properties, self employment, small businesses and more.

Turbo Tax Home and Business saves time with an advanced interview process that is customized to mold itself to different industry standards for tax filing needs.
By asking general questions it is designed to eliminate areas of tax preparation that are not relevant to your business, all while focusing on areas that do apply to you.
This system really saves lots of time and hassles by moving you forward instead of sorting through irrelevant information to see if it applies to your situation.
Thankfully it's a real stress killer for me since I hate wasting time sorting through areas of tax prep that I don't need to find what I do.
Just answer some easy questions about your life, investments and self-employment contract work to get this software package to help maximize both personal and business tax deductions. Designed to work for over 60 industries, your sure to find your perfect fit. To make sure you get all the benefits, it guides you through business expenses to make sure you get all the tax deductions you can qualify for.
The Maximize Business Deductions feature is a huge asset that will help you decide which approach is better: claiming depreciation over time or all at once. Plus another great feature is that it will also show you what similar businesses typically write off as business expenses for your industry.
I find TurboTax Home & Business to be versatile and easy to navigate for simple tax preparation on both personal and business tax returns.
TurboTax Home and Business Features
Turbo Tax Home & Business edition is ideal for you if you are self-employed. It's a great product to help you find deductions specific to your business, and makes entering in your business income very easy.
The TurboTax Home & Business plan costs $99.95 for your federal return and $39.95 for your state return which comes to a total of $139.90. Both your federal and state returns include free e-filing.

TurboTax Home & Business is very easy to use and asks simple questions to you in plain English. If you happen to have a question about a particular section of your tax return, TurboTax has blue "Learn More" links you can click on that give you on-screen guidance regarding the subject matter your are working on at any time. With the TurboTax Home & Business plan, you get access to technical support via phone, live chat, email, and TurboTax's knowledgebase.
TurboTax Home and Business includes an expanded interview that covers Schedule C and self-employment.
For personal and business filing it really is a great all-in-one package choice. By using this combined package you can breeze through your filing processes a lot quicker with import capabilities to eliminate having to re-enter the same data over and over again.
Some of the TurboTax Home & Business Features Include:
Guidance for Self-Employment Income and Deductions

sole-proprietor, consultant, 1099 contractor, single-owner LLC.
This essentially includes most non-incorporated small business owners who file business and personal taxes together.
Find Small-Business Tax Deductions

Identifies Industry-Specific Deductions
Gets You the Biggest Vehicle Deduction

Extra Guidance for New Businesses

Shows the startup deductions new businesses can take.

Makes Entering Income Easier
Creates W-2 and 1099 Forms
Simplifies Asset Depreciation
Streamlines Expense Entry
Additional features:
Categorizes business expenses
Maximizes home office deductions
Has impressive depreciation calculation support
Identifies deductions for

travel
home office
vehicle expenses and other tax deductions

Easily prepares and prints W-2 and 1099 forms for employees and contractors.
Finds Small-Business Tax Deductions, Know which expenses you can deduct for your vehicle, supplies, utilities, home office expenses, and more.
Identify Industry-Specific Deductions, Guides you through tax write-offs by industry to help you spot commonly overlooked deductions.
Biggest Vehicle Deduction, Easily determine whether you'll get a bigger deduction using actual expenses or the standard mileage. Provides support for splitting vehicle expenses between personal use and business.
Enter Income Easier with all business income types on a single page so you know you've covered all your sources of income.
Creates W-2 and 1099 Forms for an unlimited number employees and contractors. Calculates and prints on plain paper.
Simplified Asset Depreciation, Determine which depreciation method will get you the bigger deductions, then guides you through calculating and reporting any depreciation.
Streamline Expense Entries, Guided expense categories provide additional tax deduction suggestions along the way so you can maximize your tax savings.
Extra Guidance for New Businesses with startup deductions for new businesses that you can take to get their biggest refund.
TurboTax Home and Business is a great way to handle all you personal and business tax filing needs.