TurboTax Freedom 2018 - 2019
More than 20 million tax returns have been completed through TurboTax Freedom Edition in the last 12 years. Available generally around mid-January, it's a great product for low income individuals and families.
Intuit and the Intuit Financial Freedom Foundation are sponsors of the Intuit Turbo Tax Freedom Project, and in partnership in the Free File Alliance (FFA) with the Internal Revenue Service (IRS). This alliance provides qualifying taxpayers FREE use of qualified tax preparation products.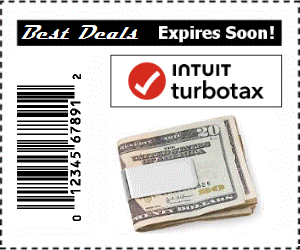 The Turbo Tax Freedom Project offers free online tax preparation and electronic filing to hard-working Americans who meet annual eligibility requirements announced at the beginning of each tax season.
The Free File program provides free federal online income tax preparation along with electronic filing for eligible taxpayers through a partnership between the Internal Revenue Service and the Free File Alliance LLC. It consists of a group of private sector tax software companies that may also offer free or paid state tax preparation and efiling services. Some companies may not offer state tax preparation and e-file services for all states without some sort of fee.
TurboTax Freedom Edition 2018 - 2019 Requirements and Restrictions:
You qualify for TurboTax Freedom Edition FREE FEDERAL filing if any or all of the following apply
Your Adjusted Gross Income (AGI) is $31,000 or less
Your served on Active Military Duty with an AGI of $58,000 or less
You qualify for Earned Income Credit (EIC), - It could be worth up to $5,666 to you!
If you qualify for a Free Federal filing, you may also qualify for FREE STATE filing in the following states: AL, AR, AZ, GA, IA, ID, KY, MI, MN, MO, MS, NY, NC, ND, OK, OR, RI, SC, VA, VT, WV. If your state does not sponsor a Free File Program, you can still prepare and file a state return within the Freedom Edition for only $14.95 (Credit card required).
TurboTax Freedom - Asks simple questions, Does all the math for you and, Checks for accuracy.
Get quick access to the most commonly filed federal tax forms and schedules for Traditional Free File.

Qualification criteria for TurboTax Freedom Edition State tax preparation:
To qualify for FREE TurboTax Freedom Edition State tax preparation and filing, you must meet both of the following criteria
You must qualify for free federal tax preparation
Your State must participate in the state FFA program
The 21 states participating in the FFA for tax year are:

Alabama
Arizona
Arkansas
Georgia
Idaho
Iowa
Kentucky
Massachusetts
Michigan
Minnesota
Mississippi
Missouri
New York
North Carolina
North Dakota

Oklahoma
Oregon
Rhode Island
South Carolina
Vermont
West Virginia
There is no charge to prepare and efile up to 3 state returns using TurboTax Freedom Edition, provided that your State allow the use of TurboTax Freedom Edition for State Returns.
TaxReturnRefunds.com US tax help, AL, AK, AZ, AR, CA, CO, CT, DE, DC, FL, GA, H, ID, IL, IN, IA, KS, KY, LA, ME, MD, MA, MI, MN, MS, MO, MT, NE, NV, NH, NJ, NM, NY, NC, ND, OH, OK, OR, PA, RI, SC, SD, TN, TX, UT, VT, VA, WA, WV, WI, WY