TurboTax Basic 2019 - 2020
Is TurboTax Basic the best choice for you?
TurboTax Basic is ideal for returning users. It makes doing your simple taxes easy by guiding you step by step through your federal tax return with ease. It searches for credits as it provides tax-saving tips to help you get the biggest refund possible. TurboTax Basic double checks your entries as you go to help make sure your return is accurately completed.
It's an easy way to do your do your tax return preparation without complications.
You Should Use TurboTax Basic 2019 - 2020 if:
you file a 1040EZ or other simple return
you own your home but don't have a mortgage
you rent your home or apartment
When I purchased the TurboTax Basic Software the first time I thought long and hard about the purchase since I just didn't believe that I would really be able to do my own taxes. To my surprise I found that today's software makes filing easy for anyone, regardless of tax or math skills.
It's important to get the edition that will be the best fit for your filing situation. Basic filing is really for simple returns that require limited forms like 1040 and 1040ez.
Supported Computer Platforms
TurboTax Basic - Macintosh & Windows
Works with most operating systems.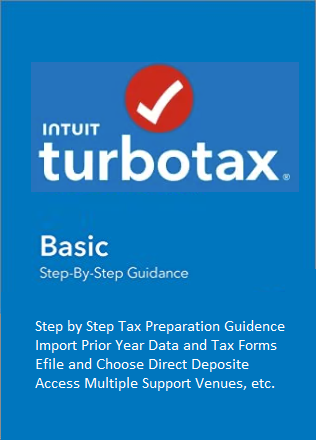 Use Online: Windows XP / Vista / 7 / Mac OS X
TurboTax Basic 2019 Software
More Details: TurboTax Basic Features
TurboTax Online Tax Preparation Software Editions - Comparison Chart
The Basic Software Edition includes all the bells and whistles from the Free Edition, along with additional Basic Features for importing data, additional support and more.
TurboTax Screen Shot - Online Comparison Chart

TurboTax Basic Edition can be a big help to tax filers when it's time to start entering data. The basic edition is the first product in the TurboTax software lineup that offers import capabilities.
When your ready to start your taxx return preparation, the first step is to import all the data you can to save time and increase accuracy.
First thing you may want to import is your w2 form from your employer.
Another form that imports easily is your 1099 Miscellaneous Income.
Next, the TurboTax Basic Edition also imports financial data from various financial institutions.
Once you have imported all you can, there is just the basic questions to answer and your ready to file your return with the Internal Revenue Service.
Big tax refunds are what we want right? After all, Uncle Samuel isn't typically looking out for our best interest is he? For a lot of Americans this basic edition is all they'll need to complete there filing process with ease, and to ensure your taking all the deductions you can...
To my surprise it took me just under an hour to complete my return, and it did all of the math calculations for me. This software made it so quick and simple! that I had to write about it. The basic program has superior on-screen guidance that gives you access to technical support by phone, live chat, email, and TurboTax's knowledgebase. TurboTax's technical support is very responsive and knowledgeable.
What I found particularly pleasing about this product was the way it packaged up sections of the interview process to get me moving in the right direction, all while eliminating sections that just didn't apply to me. I hate fumbling through paragraphs and questions that aren't needed based on my return.
Something else that impressed me was the multiple sources of easy to use guidance and help. It seems no matter where I was in the preparation process, there was always support to help if I didn't understand, or needed more information. Seems they have really used the years of experience to cover all the issues that have come up year after year. Give it a try, you'll be pleased you did.
TurboTax Basic Features
Turbo Tax Basic Edition: If you want to start saving money by doing your taxes yourself, I recommend TurboTax Software for the job. It's just a easy way to go if you want a simple to follow fully guided tax return preparation process.
TurboTax has made me a better filer as it taught me a lot about tax benefits, credits and deductions that I had been missing, or giving away to the IRS because I didn't know any better.
The Basic edition is very similar to the Free version. The big difference is that with the Basic edition you can import previous year's entry data, plus it includes extra support options to save time and insure accuracy.
The Basic Edition Provides Help When You Need It
Guide Me, guides you to the right answer
FREE Technical Support via e-mail, phone, or live chat
Live Answers from the experts and the Live Community
Life Events Expert, Explains how changes in your life, such as purchasing a home, changing jobs or becoming a parent, will affect your taxes
Puts your answers on the right forms
Automatically Fills in W-2 and 1099 Info from participating employers
Transfers Last Year's Info — No retyping
Import from other software including TaxACT and H&R Block.
Import financial data from Quicken®, QuickBooks® & Microsoft® Money
Helpful TurboTax basic features make doing your taxes easier:
File an Extension — Need more time? Submit an application for filing an extension easily.
Trying to find a specific form? Type in the name of the form and TurboTax will find it for you.
Compare Sales and State Income Tax Deduction Savings — Find which sales tax paid or state and local income tax paid tax deduction will give you the biggest refund.
Helps you determine if you can deduct vehicle registration costs.
Compares current year's return to the previous year and compares it with the U.S. average, so you how you stack up against other similar returns.
Gain a better understanding of the Alternative Minimum Tax (AMT) and how it affects you. Understand why you may be subject to AMT and how to avoid it on future returns.
See if you qualify for education credits, and which expenses are deductible. Take advantage of Education Credits and Deductions.
Provides guidance for entering Social Security income, Supplemental Security income, Disability income and dependent's Social Security income. Claim Social Security and other types of income.
See how estimated taxes work and find out if you need to make estimated quarterly tax payments.
Try it Risk Free — If your not sure the Basic Edition will cover your unique tax filing situation, you can start anytime and it will prompt you if another program may work better for you.
Upgrade easily — If you upgrade, the info you've already entered will transfer to the new edition.
Amending Your Return, TurboTax Basic Features make it easy to amend your return if you find you've left something out, or made a mistake.
TurboTax Basic Features Guaranteed Accurate Calculations — If you should get hit with an IRS or state penalty or interest due to a software calculation error, TurboTax will pay you the penalty and interest.
Watch your refund add up on every screen as you complete your return. See Your Refund in Real Time
With TurboTax Basic 2019 you get Federal Efile Included — One federal efile is now included at no extra charge to you.

Try it Risk Free — Not sure the Basic Edition will cover your unique situation? Start anytime and it will prompt you if another edition may work better for your tax filing needs. If you upgrade, all the information you've already entered will transfer to the new edition automatically.
The TurboTax basic features set the standard for user-friendly, and reliable tax products. Offering excellent error checking and on-screen guidance, they offer the most intuitive tax products on the market today along with unparalleled tax support.
Whether you're new to tax software or a returning user, if you have questions the help and support center has the answers.